If you're going to buy a rabbit, you also need somewhere for the rabbit to live. And for most of us, that means buying a rabbit hutch or cage.
Not everyone: some people – about 1 in 20 owners – let their bunnies roam entirely freely indoors, and a recent survey of English pet bunny owners found one owner who used a Wendy house as a makeshift hutch. Source.
When we decided to become rabbit owners, we did some research on the internet, asked friends for advice, and eventually settled on the Large Coach House rabbit hutch, with its optional extras – a run and cover.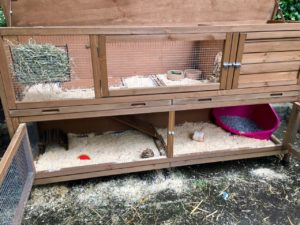 The Large Coach House hutch is a two storey hutch designed to be used outdoors.
Fish and Chips, our rabbits, have been happily living in it since we brought them home. 
Overall, we are pleased with our choice, but there have been one or two niggles along the way. Here's our experience of using this hutch, and why we chose it.
How much does it cost and where can I buy it?
You can buy it (if you're in the UK) from the Pet House Company here.
If you're based in the US, have a look at this alternative (available from Amazon) – more details on this hutch lower down the page.
How big is the hutch?
We have to think about two different factors when considering size. First, how much area do the rabbits have to move around in? Will there be space for them to hop, to stretch, to run a little? Secondly, how high is the hutch? Will there be space for them to rear up on their hind legs?
How much floor space does the hutch and run have?
The hutch dimensions are as follows:
| | | |
| --- | --- | --- |
| Overall height (to lowest point – the top slopes) | 3.3 ft | 1m |
| Width | 6 ft | 1.8m |
| Depth | 2 ft | 60cm |
Overall area for rabbits         24 ft2  2.16m2
How does this area compare to recommendations from animal welfare groups?
The Rabbit Welfare Association & Fund (RWAF) recommend a minimum size of hutch of 6ftx2ft, which equates to 12 ft2 (1.08m2) (info here).
So the hutch has double the recommended floor space.
BUT the RWAF also recommend that rabbits should have access to a run of 8ft x 6ft (2.44m x 1.8m x 0.91m). Added together, this means a total floor space of 60 ft2 (12 ft2 for the hutch, 48 ft2 for the run).
The run that you can buy with the Large Coach House is 6 ft x 4 ft (1.8m x 1.22m), for a floor space of 24 ft2 (2.16m2). 
So, the Large Coach House hutch and run together give a combined floor space of 48 ft2 (4.32m2).
The combined total is therefore a little less than the recommendation of the RWAF. Clearly this isn't ideal, but it's remarkably difficult to find a larger floor space from hutch and run that are designed to work together. The Large Coach House hutch and run is one of the largest floor spaces available commercially.
Our rabbits also have regular access to a large garden, so we felt comfortable with this space for our buns.
How high is the hutch and run?
The internal height of the upper floor is about 14 inches (36cm). The ground floor is taller – 15.5 inches (39cm).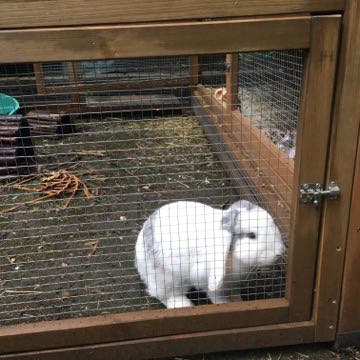 If you buy the run, it is a little taller – 21 inches (53cm). I went and measured this myself, as I couldn't find it on the supplier's website.
Again, this isn't as high as the RWAF would prefer – they suggest 36 inches (91cm). The run needs to be high enough for a rabbit to be able to rear on their hind legs – for an average rabbit this means 52.6cm or just under 21 inches. Our rabbits are on the smaller side, so the run is tall enough for them. If you have larger rabbits, this may be something worth checking.  
The hutch and run are big enough (space and height) for our rabbits, but that might not be true for everyone's buns.
How does it arrive?
The hutch arrived in two large, heavy flatpack parcels. Because the hutch is 6 foot long, so too are the parcels. 
We had a problem when we opened the parcels. Two pieces of the hutch had been damaged in transit. We needed to speak with the supplier to sort out replacement pieces. At first this wasn't straightforward – there was going to be a significant delay (something about new hutches and replacement parts being separate departments).
However, when we pressed them on this a little (we needed a hutch!), they agreed to send out replacement parts the next day (and were true to their word). 
How easy is it to build?
I should start this section by saying that I am not a DIY expert or handyman. I have built a few IKEA bookcases over the years, but that is about the limit of my skills. 
You might be pleasantly surprised by how straightforward building the hutch is. The instructions were generally clear enough that I was able to work out which pieces were being referred to, and how to fit them together. No special tools were required beyond a screwdriver.
Here's a short timelapse video of me building the hutch, so you can see I made relatively steady progress.
What do we like about the hutch?
The hutch has a number of different features that we appreciate. Here are seven things we like about the Large Coach House hutch and run.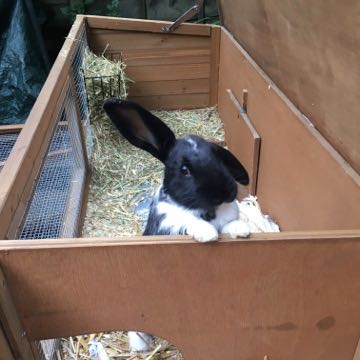 It feels pretty solid. This is subjective, but the hutch when assembled doesn't feel rickety. We've moved the hutch a couple of times, and there hasn't been movement or loosening of screws.
We like the fact that the roof lifts up (and stays open). This makes it much easier to refill the hay manger we added to the upper level, and their water bowl. And when it comes to cleaning the hutch, again, this gives easy access.
The upper level has two doors that open outwards. We haven't really used those except when cleaning the hutch.
You can slide out the floors for better cleaning. The floors slide in or out, so you can remove them, clean them, and then slide them back.
The floors are zinc-coated so they are more likely to withstand damp/urine/rust.
The hutch is raised a little bit above the ground. For an outside hutch, this means that the bottom level isn't getting as cold or wet on rainy days. It makes a big difference to the temperature. The legs have rubber protection on the bottom to keep them from rotting. 
The bolts on all the doors are also zinc coated to prevent rusting. Also, this design is safer. Some hutches use wooden swing fastenings, which would be easier for a predator to open.
The hutch comes with a 10 year anti-rot guarantee. This gave us some peace of mind that the hutch is likely to last.
What don't we like about the hutch?
Although the floors do slide in and out, one or two of ours (there are four altogether) stuck a little rather than being smooth. I resorted to sanding part of one to enable it to move in and out a little better.
If you have bigger rabbits, it is not very tall. You may want to make sure that they have access as well to an area where they can rear up if they want to.
How well does the cover fit?
The cover is quite a snug fit around the hutch (it does not cover the top, which already has a rubbery waterproof coating). 
What do we like about the cover?
First of all, we appreciate that there is a cover for the hutch. It means that when the wintry seasons come, we have something to make sure that the hutch is comfortable for our bunnies. 
We also like the way that you can still access all areas of the hutch, thanks to zipped sections everywhere.
What don't we like about the cover?
The sections that cross the front of the hutch seem to hang a little loosely rather than being neat. There are bits of Velcro to hold parts of the cover together neatly, but sometimes they seemed to be lacking where we would expect them. The windows seemed designed to be rolled up, but this was quite tricky in practice. 
We are not sure how to fit both the cover and the run without screwing through the cover. This is what we did in the end.
The run is harder to close with the cover in place.
How easy is the run to build?
The run was similar to build to the hutch. I managed it, despite my limited DIY skills.
What do we like about the run?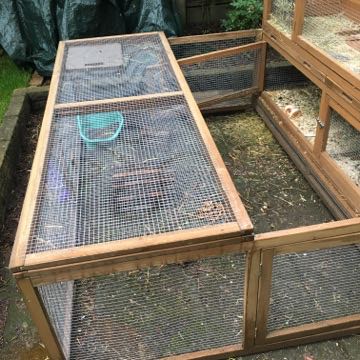 The run can either be free standing, or attached to the run. When attached, if done properly, you can still access all the doors/floors of the hutch. Opening one of the lower doors allows your bunnies easy access to the run. The run itself has two large doors, which you can open to allow the rabbits access to a garden.
Half of the top flips back, which means it is still easy for you to stand in front of the hutch inside the run when you need to top up hay or clean the hutch.
What don't we like about the run?
As I indicated above, it would be nice if it was a bit taller. 
Also, (though this may be a mistake on my part), I couldn't easily see how you have the run attached to the hutch and put on the winter cover. I'm not sure if you are meant to screw through the cover if necessary. 
What alternatives are there?
If you are looking for more height for your bunnies, then the same company also make the Manor 6ft extra large rabbit hutch. 
It is 4 ft tall, so has a bit more headspace. It also has as an optional extra a custom cover for the winter season. However, there is no custom run you can add on.
The company is British, so if you're coming to this site from America, you could consider the PawHut Rabbit Hutch. The reviews on Amazon seem generally positive. It is high enough, but not as long as would be ideal. I haven't tried the hutch myself. You can find out more about in on Amazon (and check out the price) here. You would need to buy a run separately.
Conclusion and recommendation
We are happy with our decision. Our bunnies Fish and Chips enjoy their home, and it seems to give them enough space to hop and stretch. The hutch is sturdy, and the design means that we have easy access to both levels (in particular because the roof flips up and stays up). The run fits the hutch well, and gives more space. The cover fits neatly, and will help in winter.
If you're reading reviews on rabbit hutches, you might be in the process of buying your first rabbit (or rabbits – they like company!). We have an article if you're wondering how much it might cost you in total.